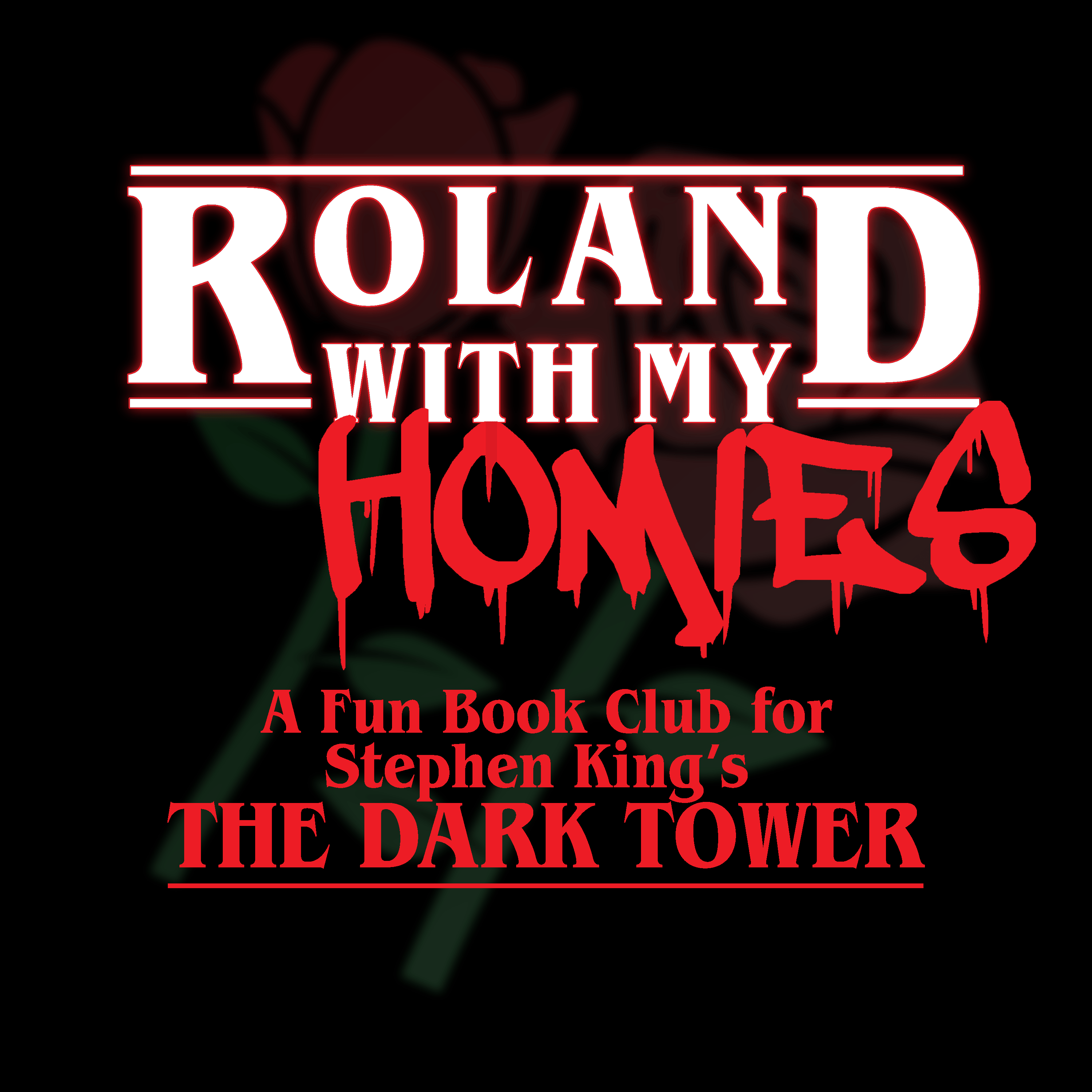 This week on ROLAND WITH MY HOMIES, we say the B-Word, which is "Bloodmancy."
Just because your podcast hasn't gotten its red wings doesn't mean the rest of us can't get super horned up to the sounds of violent exsanguination! That's right, Ka-Babbies, we're reading THE LITTLE SISTERS OF ELURIA, a delectable little confection collected in the short story anthology EVERYTHING'S EVENTUAL. In this short prequel novel, Roland gets beaten up by a pack of mutants and spends most of the story strapped to a hammock while unsettling vampire stuff happens all around him. Oh lord, I hope the resolution has something to do with a Christian dog!
ALSO: we chat with Danielle's mom, tell a funny story from Danielle and Mike's wedding, make explicit the implicit in regards to SUPER MARIO ODYSSEY, and authoritatively assert our opinions on whether you're allowed to say The B-Word. 
This podcast was recorded on Thanksgiving Eve in 2017, to set the scene, so prepare to hear our thoughts about Roy Moore and how everyone in our lives wants to hear our STRANGER THINGS takes.
ROLAND WITH MY HOMIES is a SPOILER ZONE so please read the book first. 
DISCUSSED: 
| | |
| --- | --- |
| START OF PODCAST | 0:00.000 |
| Hello and Welcome | 0:00.000 |
| Is The Dark Tower Sexy or Just Horny? | 0:47.158 |
| Why Read Eluria after the Gunslinger? | 1:54.119 |
| I wish PS4 did backwards compatibility like Xbox One | 3:04.319 |
| Recap begins | 3:24.390 |
| Stranger Things is a little better than The Dark Tower | 4:27.580 |
| Danielle would book an AirBnB in Eluria | 5:47.317 |
| Unclear if Mike properly used the word "Bemused" | 7:08.000 |
| Roland thinks it's wrong to kill the only sign of life in a ghost town | 7:42.039 |
| Mike admits when he's wrong | 11:39.401 |
|   |   |
| Dark Tower Religion stuff | 15:52.654 |
| Josh reveals how often he tunes out Mike and Danielle | 17:17.910 |
| I'm not actually going to splice anything in from a previous episode screw that man | 17:22.575 |
| Witch Doctors in my Beyonce Facebook group | 18:49.358 |
| What Roland would think about Roy Moore | 20:21.673 |
| Do they, Danielle? | 21:05.433 |
| Is there a JFK drinking game on this show? There is now!! | 22:26.531 |
| 9/11 | 23:15.203 |
| Roland convalesces | 24:42.285 |
| Danielle's mom calls and asks us about Stranger Things, discussion of D+M's Wedding | 27:35.362 |
| Our apartment is the ideal environment for podcasting | 36:09.144 |
| Dinner Time? | 36:36.264 |
| Jenna the Hot One | 36:38.515 |
| The "doctors" ahhhhh!! (Danielle's Lucille Bluth impression) | 38:01.862 |
| James and John | 39:12.342 |
| Extremely Professionally, Danielle and Josh are chatting to each other on Google Hangouts during the recording. | 39:27.433 |
| Josh uses the B-word | 40:10.395 |
| REF: What We Do in the Shadows | 40:47.737 |
| Will anyone know these politics references? | 43:15.529 |
| Is the soup nasty or delicious? | 44:12.833 |
| We finally address the gendered hostility in the podcast | 44:48.092 |
| Holy hell, I can't believe we were making #MeToo riffs last Thanksgiving we are living in a hellish perpetual present | 45:21.189 |
| Kisses for all! (Danielle reads unsexy erotica) | 46:08.630 |
| Debate upon the legitimacy of Roland's boner | 49:12.750 |
| Only magic could turn Roland into a two-pump chump | 49:28.027 |
| Josh vs. Leftist Women | 53:19.142 |
| Just because you haven't gotten your Red Wings doesn't mean everyone is turned off by the smell of blood | 54:05.610 |
| LINK: Stephen King's Boners Tumblr | 55:35.810 |
| For some reason this all reminds Josh about Bloodborne | 57:50.156 |
| http://stephenkingsboners.tumblr.com/ |   |
| Canned Ham? | 1:00:58.847 |
| Hooboy | 1:03:37.802 |
| Josh vs. Stephen King's Misogyny | 1:06:05.171 |
| Josh actually liked this story but... | 1:07:03.618 |
| Parner up early and you don't have to grow | 1:08:57.430 |
| Danielle is ride-or-die for Wendy Torrance | 1:10:05.612 |
| Is King self-aware enough about Roland's nostalgia? | 1:12:50.875 |
| I think King addresses this in The Drawing of the Three | 1:15:06.689 |
| Josh doesn't know he's describing Odetta Holmes | 1:16:43.933 |
| Mike confuses Stephen King for Kurt Vonnegut | 1:17:09.441 |
| What Roland has done so far | 1:17:14.987 |
| Danielle pulls some random passage to talk about not sure of her point here | 1:18:13.386 |
| Another Pee Break | 1:18:26.947 |
| Mario Odyssey | 1:18:45.831 |
| Did Pauleen Fuck Donkey Kong? (Do you need to ask?) | 1:19:56.602 |
| B-Word So Sorry | 1:20:37.694 |
| http://www.zeldarocks.com/The-Seven-Starred-Lotus-Super-Mario-RPG-Mandala.html | 1:23:22.945 |
| An Intervention on the B-Word | 1:24:11.106 |
| Mike says bitch but it's like almost midnight at this point so sorry | 1:24:29.620 |
| A discussion of Dracula and Danse Macabre and Oscar Wilde | 1:29:00.200 |
| Josh loves Dracula | 1:30:46.682 |
| Men just get off from evil | 1:34:16.395 |
| Through your women you will all be mine | 1:36:32.734 |
| Oscar Wilde??? | 1:37:02.053 |
|   |   |
| Anality | 1:42:48.062 |
| That's Ka, baby | 1:43:28.478 |
| Danielle shouts "KILL THE DOG, ROLAND!!" | 1:45:15.177 |
| The opposite of this would be a creature that steals life in some way, don't you think? | 1:46:10.222 |
| Mike takes five minutes to say the most banal platitudes in podcast history | 1:46:23.079 |
| God help us, water sports | 1:47:45.196 |
| Does Josh like this story? | 1:53:42.703 |
| Preview The Stand | 1:54:47.230 |
| Josh watched IT when he was 4 | 1:56:09.583 |
| Danielle talks about her thesis | 1:57:40.842 |
|   |   |
| We ended up on Podbean | 1:58:38.048 |
| Mike will hook you up with pirate copies of Maude | 2:00:12.561 |
| How much stand to read | 2:00:13.773 |
| Keeeeeeeep Readin'! | 2:00:55.835 |
MUSIC: