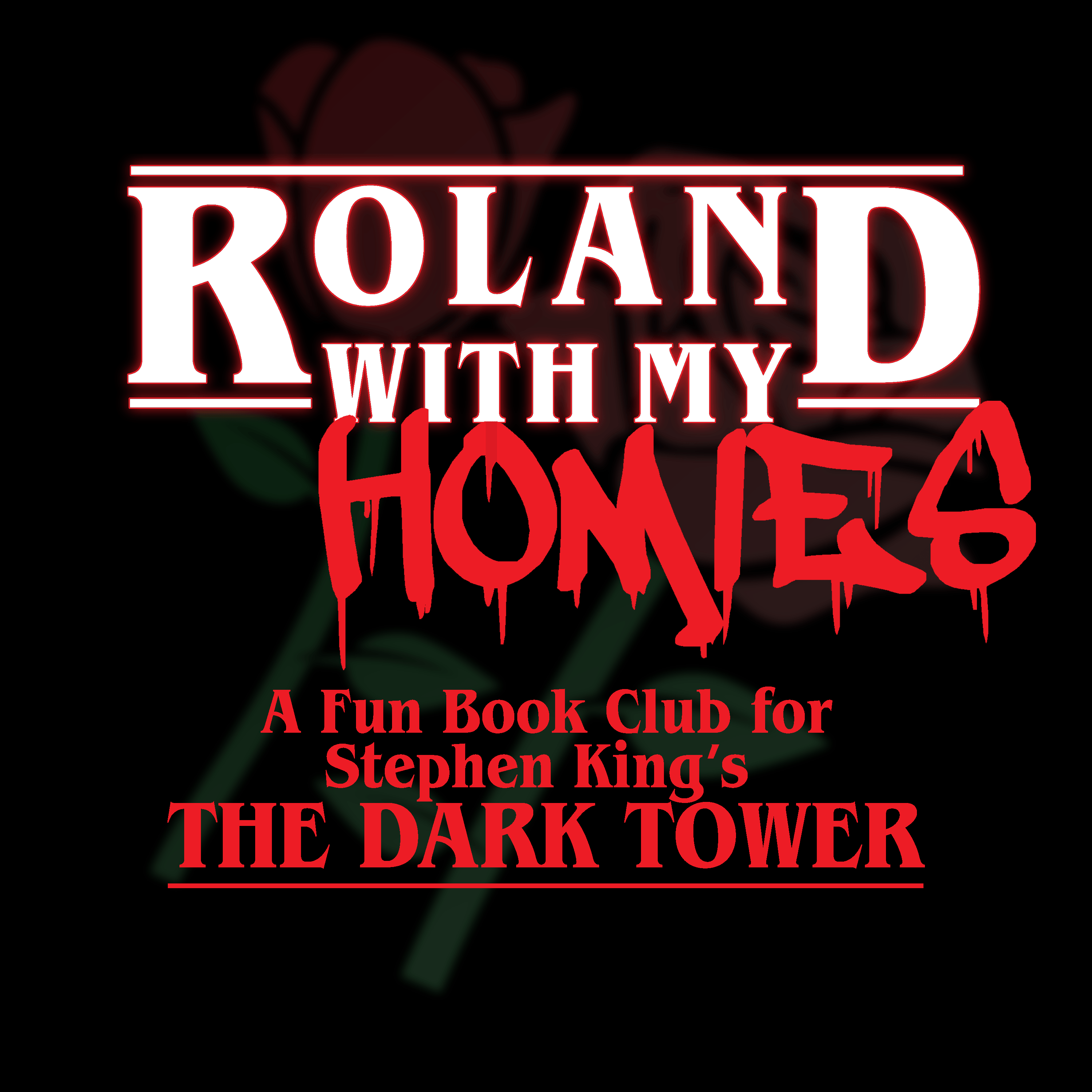 A Podcast is only as good as its Lost Episode.
The Homies screwed up the recording and have to double back and re-talk about the middle section of the book after they've already finished it. So they studied up, lit a kettle of coffee and had a clean, sober, concise discussion to replace the one they'd lost.
KIDDING! This one's a mess and we forget to talk about Chapter 3. It's also a pretty good time. 
Roland's hot on the trail of The Man in Black when he's confronted with every Gunslinger's weakness - a tween boy he can force to listen to boring stories of his youth. It's the Baby Boom writ large this week on Roland With My Homies!
Please read The Oracle and the Mountains for next time if you haven't already. We're drinking COFFEE in the next one!
Please rate us on iTunes! I think that's what you're supposed to do to podcasts!
Follow on Tumblr! Rolandwith.club
Follow on Twitter? @RolandWith
Check out the Facebook Page https://facebook.com/rolandwithmyhomies
Email us I guess rolandwithmyhomies@gmail.com
DISCUSSED:
0:05:29 I edited out the first two times Mike tried to start talking about the topography of Midworld.
0:06:57 Mike flubs basic facts that could have been checked by glancing at the table of contents.
0:09:57 Hot Takes about Game of Thrones distance travel continuity problems. Why didn't I edit this part out; it was stale even then.
0:11:25 Casual Ableism
0:13:07 Nigh-insightful comment about narrative time dilation
0:14:00 Discussion of The Way Station begins here.
0:14:42 America - A Horse With No Name
0:19:40 WHAT did Jake say?!?
0:22:07 Danielle makes her whole Stephen King lunch out of paragraphs like this.
0:22:57 Roland wishes he would lose his hand.
0:24:26 Controlling the mind is more violative than destroying the body.
0:26:01 Reference: Margaret (2011)
0:26:32 We hate on The Dark Tower movie again. There's really not much to recommend it.
0:28:18 Reference: Parks & Rec
0:29:47 It seems like Mike and Dani laugh too hard at Josh's joke, but it's actually cleverly edited to remove an embarassing conversation.
0:31:36 Why does Roland take the jawbone?
0:37:53 Discussing The Trap of Love (when The Gunslinger began to love the boy)
0:38:50 Is it going to remain that clunky?
0:40:54 Josh loves masturbatory "anything"
0:43:20 Danielle has funny ways of pronouncing stuff.
0:44:37 Danielle's Bay Area shows through.
0:46:38 Josh rips on Danielle while she's making a drink and can't hear.
0:48:23 What they teach you in Bible Study.
0:49:58 Danielle spares a thought for the filthy casuals who didn't come here to hear our opinions about religion.
0:51:50 Josh is cooking beans and rice.
0:52:52 A Chef vs A Cook
0:53:15 The Kennedy Assassination and The World Moving On.
0:54:15 Is John Farson the same guy as Randall Flagg?
0:56:36 Wishin' we'd read the Dark Tower comics.
0:56:39 Published by Marvel Comics, but not part of the Marvel Universe.
0:59:49 Even though she's clearly drunk, Danielle makes a good point connecting The Dark Tower to Battlestar Galactica (thematically).
1:00:05 Dham D, making another good point about the nature of Randall Flagg.
1:01:36 Danielle thinks Flagg is from Midworld, but in a future episode she will change her mind.
1:03:14 You are my climax.
1:03:47 I'm not saying you should commit terrorism via the food supply but...
1:06:42 Origins of Midworld?
1:10:05 Cuthbert's eyes were gunslinger's eyes.
1:11:41 Patriarchy turned up to 11.
1:14:09 Reading of Roland's conversation with Steven.
1:19:18 Is this Logic vs. Illogic? (Come back here when reading The Stand)
1:19:21 Danielle and Josh hate SK's idea of a Great Society.
1:21:41 Reference: Earthbound (1995)
1:24:18 Would you live in Midworld or our world?
1:26:07 Does Stephen King MEAN for Gilead to be bullshit?
1:26:52 ???
1:27:19 Ooo, let's find darkness in it!
1:27:42 Reference: Marguerite Perrin on Trading Spouses
1:28:33 Is Jake better off in New York?
1:29:01 We describe briefly a video game called Shin Megami Tensei IV
1:31:27 John Farson is the catalyst.
1:34:23 As the night wears on, the conversation turns to Donald Fucking Trump once again.
1:38:41 Does Josh like the book?
1:39:17 Danielle is not The World, refuses to Move On.
1:40:26 If you kill bin Laden, then a lot of people will never join Al Qaeda? Danielle...
1:43:39 Comparing reading styles. Steven is deeply conservative.
1:45:08 At this point, Josh seems to have started to go to bed.
1:46:26 Everyone on this podcast says "bitch" and I don't know why that's cool man. I'm keeping an eye on it.
1:48:04 Why is Roland telling this story?
1:48:59 Mike is not hiding his annoyance well.
0:00:00 Josh should watch Battlestar Galactica.
MUSIC: Handel by Dee Yan-Key
Fonts: A Dripping Marker and Stranger Things